Central Florida Cyber Forum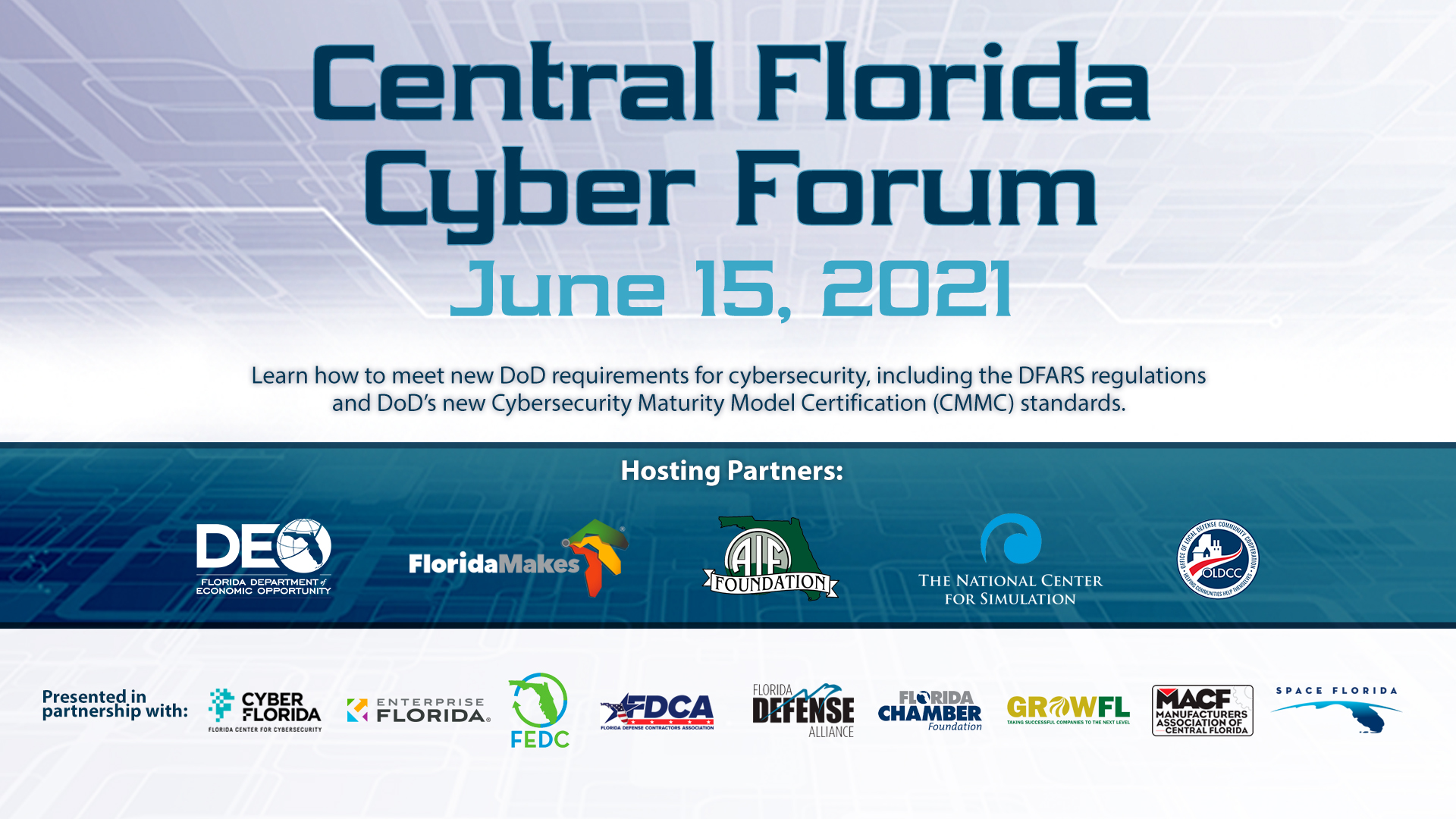 About this event
Don't miss the Central Florida Cybersecurity Forum on June 15, in Orlando and your opportunity to learn about how to become compliant with DoD's new Cybersecurity Maturity Model Certification (CMMC) requirements.
With the DoD ramping up its focus and requirements on cybersecurity for its supply chain, manufacturers and defense contractors of all types will need to take specific steps to protect their networks if they want to continue doing or hope to do business with the DoD.
Join a distinguished line up of experts for an in-person event and learn about CMMC requirements and about the cyber Assessment Reimbursement Program. Presented in partnership with Florida Department of Economic Opportunity, FloridaMakes, AIF Foundation, The National Center for Simulation and The Office of Economic Adjustment.
Cost is $25 and includes lunch. DON'T WAIT, REGISTER TODAY!
What will attendees learn?
Introduction to DFARS and the new DoD CMMC requirement
Resources to update and maintain cybersecurity compliance
Eligibility and requirements for the Assessment Reimbursement Program
Tracking assumptions DoD has for Defense Contractors
And, much more!
Date and Location Information
Tuesday, June 15, 11:00 AM – 4:00 PM
Rosen Centre Hotel (9840 International Drive , Orlando, FL 32819)
As a bonus with your registration, you will be automatically registered for the National Center for Simulation (NCS) event "Bigs, Smalls and Alls," taking place at the same location directly following the forum. This event features a panel of small and large business representatives who will discuss best practices for partnering in the MS&T and defense sector. You will receive a separate confirmation for this event which you can accept or decline. Click here for more information.
Event Location
Rosen Centre Hotel
9840 International Drive
Orlando, Florida, 32819