Florida Trade Grant Partnership
'Advancing Manufacturing Careers'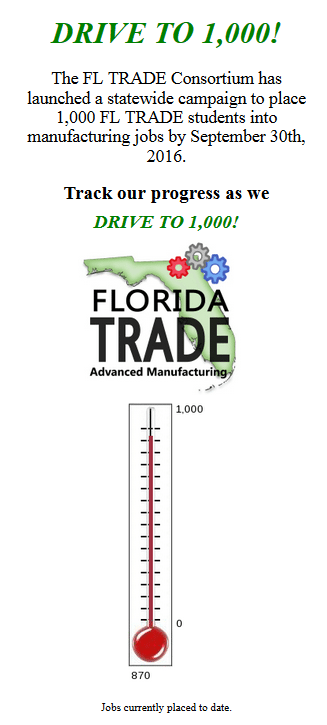 Florida Trade Educational Partners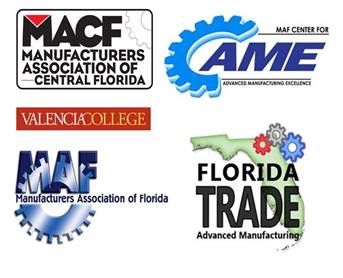 ___________________________________
Support Florida Trade

Your support for Florida TRADE is requested to help us build Central Florida's manufacturing talent pipeline. MACF is working with Valencia College and OCPS to build that pipeline for you, the manufacturers.

Below is a menu of opportunities for you to participate in:
Identify Required Skills and Knowledge – Provide us with copies of the job descriptions for your entry and mid-level manufacturing positions to help us to make changes to our training programs.
Promote Advanced Manufacturing awareness through plant tours
Help yourself get qualified workforce by offering curriculum feedback
Hire FL TRADE participants –   we look forward to sharing resumes with you for Florida TRADE participants that may be a good fit for your operation.
Take a FL TRADE participant on as a Paid Intern
Serve on a college manufacturing advisory board
Add the Florida TRADE logo to your website in support of the program
Agree to join the manufacturers speakers bureau to keep students informed about advanced manufacturing
Encourage young people, veterans and folks wanting to change careers to enroll in TRADE courses at Valencia College.
Participate in the Florida Dream It! Do It! Adopt-a-School Program to funnel young people into TRADE manufacturing programs.
__________________________________________________
FloridaMakes
The MAF Center for Advanced Manufacturing Excellence will operate the new center, called FloridaMakes, to offer manufacturers services that will help them develop new products and customers, expand into new markets, adopt new technologies and more. The center will join a national network of 60 centers and more than 1,200 technical experts who help manufacturers solve their challenges and identify opportunities for growth.To read the entire press release, click here.
About FloridaMakes:
FloridaMakes is a statewide service created by manufacturers, for manufacturers, to support the growth, competitive ability and profitability of Florida's nearly 19,000 manufacturers.  Services, which are offered through the state's regional manufacturing associations, are customized to meet the needs and opportunities of individual companies based on an enterprise assessment, and include process improvement, business growth and innovation, supply chain optimization, product development, adoption of best practices and appropriate advanced technologies, sustainability, market expansion and other services. Part of the National Institute of Standards and Technology's (NIST) Manufacturing Extension Partnership, FloridaMakes provides access to national and local public and private resources. FloridaMakes operates with support from the State of Florida, NIST and Florida's manufacturers.  Visit http://www.floridamakes.com/ for more information.
Explore NIST for more information.
___________________________________
OCPS – Orange Technical College

Did you know that Orange County Public Schools is a community partner of MACF?
Orange County Public Schools is home to five convenient tech center campuses (Mid Florida Tech, Orlando Tech, Westside Tech, Winter Park Tech and Avalon Tech) offering programs that feature affordable tuition, highly-qualified instructors and real-world curriculum. Whether a student is looking to jump into career training right out of high school, or interested in starting a whole new profession, OCPS Tech Centers is the way to go! The interactive classrooms and simulated work atmosphere provide students with hands-on experience that builds the confidence to succeed in the workplace. At an unbeatable price, and fully accepting of financial aid, the tech centers are the perfect gateway to exciting careers in health science, information technology, automotive, audio/video technologies, manufacturing and so much more.
Due to the unique partnership with OCPS, MACF members will now have another place to list open job positions. HR managers can upload job descriptions by accessing the Orange Technical College web site. Further instructions can be found by downloading the how-to file.
___________________________________
 Reaching Kids Through Technology

Did you know there's a game app called Build It Better! especially designed for middle school students? It is free and available to download on Google Play, the App Store, or for use on a desktop. In the game, you have to build different things to meet certain needs. For instance, you have different levels for a water bottle–one level, you make it for athletes, the next for kids, etc. It is a great activity for youth outreach events! More information and a demo video is available here.
 ___________________________________
Target Sector Trade Grants are now available to help Florida companies grow their export sales through international trade events!

Click here for more details.
__________________________________________________
 Learn More About Central Florida STEM Education Council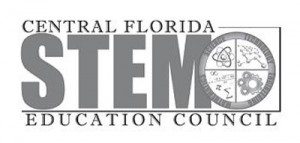 The Central Florida STEM Education Council, (CFSEC) is a collaborative effort between academia, industry, professional organizations and government, with a long term objective of increasing the technical workforce for the security and continued growth of the United States. CFSEC strive to develop a unified STEM program to include mass communication, mentorships, and resources for parents, students, and educators through on-line and event venues. For more information, visit the CFSEC web site.
___________________________________
Quick Response Training Grant
The QRT Manufacturing Consortium Grant is a special time-limited statewide grant totaling $2 million aimed at meeting marketplace talent needs of existing Florida companies in the state's manufacturing sector.   QRT grants administered by CareerSource Florida, provide funding for customized training to new or expanding businesses.
___________________________________
Manufacturing Day/Month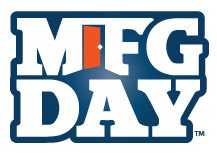 The success of MFG DAY depends on everyone involved. We're all in this together — whether you're hosting or attending an event, sponsoring the initiative, or just sharing your experience with the manufacturing community – Learn More
2015 Event Survey Results
Deloitte and the Manufacturing Institute have collaborated over the past decade to develop studies that examine the public perception of manufacturing, skills gap in manufacturing and women in manufacturing. Building upon that research, Deloitte is now collaborating with the Manufacturing Day Producers to measure how Manufacturing Day is positively impacting the perception of the industry and its career options.
View the results of the inaugural (2015) study below. Download the infographic results as a PDF that can be printed at 11 x 17″.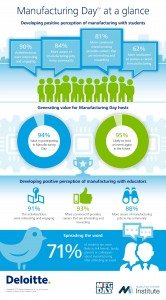 _____________________________________________
Valencia College's Advanced Manufacturing Training Center
Valencia College manufacturing programs have been developed in collaboration with the manufacturing community using internationally and nationally recognized certification programs that help our students excel in the workplace.  Recent studies performed by the United States Department of Labor and the National Association of Manufacturers shows a need for workers trained in advanced manufacturing and the demand is expected to grow over the next decade as more senior workers retire and the manufacturing sector continues to grow in our country. View the Valencia College web site to see what they can do for you.
_____________________________________________

Dream It! Do It! –  Florida Campaign
Dream It! Do It! is a national manufacturing careers recruitment strategy developed in 2005 by The Manufacturing Institute, an affiliate of the National Association of Manufacturers (NAM).  The program addresses the growing shortage of skilled workers by enlightening today's youth of the high-tech manufacturing industry and its contribution to innovation, productivity, economic growth, and high quality manufacturing thus inspiring them to pursue careers in the industry. Dream It! Do It! aims to increase both the number of students choosing to pursue educational and career pathways in manufacturing, as well as the number of prepared applicants for manufacturing jobs who attain portable, industry-endorsed skills credentials.
The overall goal of Dream It! Do It! is to

increase

the number of youth pursuing manufacturing education and career pathways thereby

increasing

the number of credentialed applicants for advanced manufacturing jobs.
The purpose of the Dream It! Do It! campaign in Florida is four-fold.
1.

      
Inspire
young people to prepare for and seek careers in Advanced Manufacturing
2.

      
Improve
the public's image of manufacturing
3.

      
Influence
schools to embrace manufacturing careers
4.

      
Involve
Florida Manufacturers in a leadership role
The campaign will tout the image of Advanced Manufacturing to the public and
especially
parents and teachers. Most people do not realize the changes in manufacturing – from brawn to brain, from people to machines and from local to global – and that a skilled and credentialed workforce is vital if the USA is going to bring manufacturing "home."  The campaign will involve manufacturers so that the skills they require to run a world class manufacturing facility will be fully developed.
The Dream It! Do It! Campaign will be responsible for inspiring the youth to be that educated and certified manufacturing workforce – FILLING THE GAP.
Florida manufacturers have a unique opportunity to fill their own skills gap by participating with MAF in the Dream It! Do It! campaign.
For more information on the Florida Campaign: www.mafmfg.com/didi500

June Wolfe, President
Dream It! Do It!
MAF Center for Advanced Manufacturing Excellence
954-801-6770
 _____________________________________________
Manufacturing Heroes Activity Book: